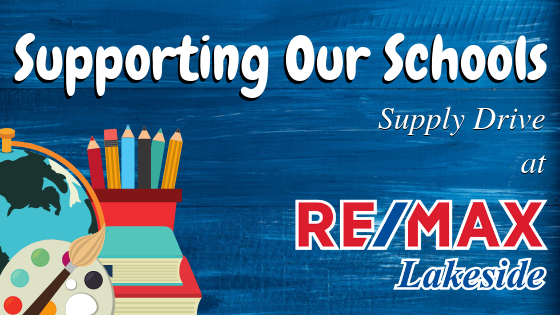 Here at RE/MAX Lakeside, we love and appreciate our local teachers and schools who do so much for the young minds in our community. teachers, especially, and the work they do are irreplaceable. Since our team is made up of parents, grandparents, aunts, uncles and other concerned members of the community who are invested in the prosperity of our schools and the success of our teachers, we believe that we have a responsibility to support them however we can . Unfortunately, as is the case with many school districts, teachers often need to personally purchase the supplies that are vital to running their classroom. This can be a huge financial obligation but the children depend on these supplies to have a wonderful classroom experience. Having access to these supplies is non-negotiable!
As part of our new community outreach program at RE/MAX Lakeside, we have started a supply drive in an effort to support our schools and teachers. We will be collecting a number of items at both our Blue Jay and Lake Arrowhead Village offices which will be donated to local mountain schools.
Our agents and staff are working together to reach collection goals on a regular basis so that we can provide year round support to our local schools. We've collected lists of supplies from local schools and are breaking up into three teams to make the collection process challenging, effective, and fun. The three teams are focusing on collecting different items and each item donated will earn that team one "point". A little bit of friendly competition can go a long way and with the start of the school year fast approaching, we are especially determined to collect as many donations as possible.
While we are working hard to meet these goals on our own – a big part of reaching these goals consistently is reaching out to our neighbors in the community for support. If you are interested, here's how you can contribute to our collections efforts.
Check out the list of items that we are collecting below.
Share the list with your family, friends, and contacts.
Contact an agent you know or our office manager (Liz Whieldon, 909-337-9999) to coordinate a donation.
Simply, drop your donation off at either the Blue Jay or Lake Arrowhead office and we'll take it from there!
We Are Located At:
Blue Jay Office 27169 HWY 189 Blue Jay, CA 92352

Lake Arrowhead Village Office 28200 HWY 189 Suite C-205 (Btwn Grapvine and Rocky Mountain Chocolate Factory) Lake Arrowhead, CA 92352

Contact us at (909) 337-9999!
Every little bit will help us reach our goal. Thank you for your support!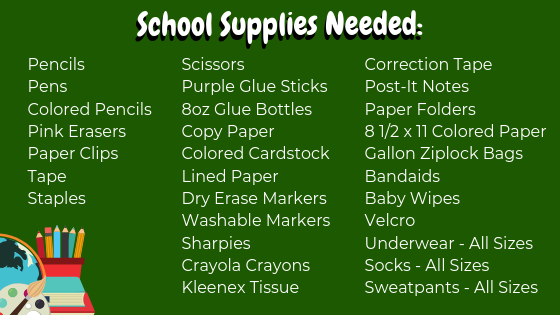 School Supplies Needed:
Pencils Pens Colored Pencils Pink Erasers Paper Clips Tape Staples Scissors Purple Glue Sticks 8 oz Glue Bottles
Copy Paper
Colored Cardstock
Lined Paper
Dry Erase Markers
Washable Markers
Sharpies
Crayola Crayons
Kleenex Tissue
Correction Tape
Post-It Notes

Paper Folders
8 1/2 X 11 Colored Paper
Gallon Ziplock Bags
Bandaids
Baby Wipes
Velcro
Underwear – All Sizes
Socks – All Sizes
Sweatpants – All Sizes