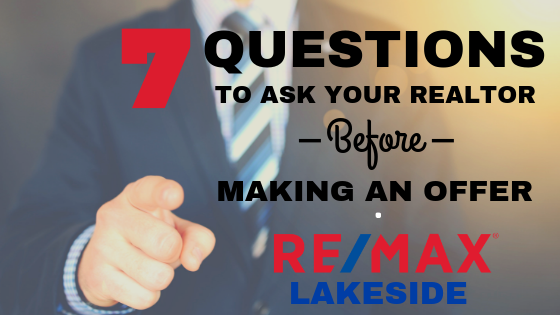 Buying a home can be very overwhelming. You're feeling excited, nervous, and so many other emotions that can make it difficult to know if you're choosing the best home for yourself and your family. You've toured several homes and narrowed it down to the one you love, but before you make that offer you want to make sure you're making an informed choice, after all, knowledge is power, and power equals confidence! So here are 7 questions to ask your Realtor before making that offer.
1: Is the price fair?
This question may seem obvious but it's important to remember that your realtor has unique knowledge about homes and their value in the current market that will help you make a better offer or avoid making a bad offer. It's always wise to ask your agent if you'll be getting a fair deal at the listed price because the sellers may have decided to list higher than normal. Besides, how can you make sure you're getting a great deal if you don't ask?
2: What are the comparable properties in the area going for?
Your agent can certainly give you their own insight on the fairness of the listed price for the home you're considering, but it's worth it to go the extra mile and see how similar properties in the same area are selling. This will back up your agent's insights and help you get a better idea of what you should pay for the home you want. As they say, the proof is in the pudding or, in this case, the comps! Your agent can search for comparable homes sold by using the Multiple Listing Service and provide you with a full report.
3: How long has this home been on the market?
If you've fallen for a home just outside your budget or if you're looking to get a better deal, you might be thinking about making an offer a little lower than asking price. To judge how receptive the seller might be to a lower offer, you'll want to consider how long the home has been on the market. A seller whose home has just hit the market will be less likely to depart from their asking price and will instead wait for better offers to come in. On the contrary, a seller whose home has been on the market longer than usual may be eager to sell, even if it's at a lower price. Ask your agent how long the home has been on the market and if it will be reasonable to make a lower offer.
4: Are there any other offers?
Asking your agent if there are other offers on the home you're considering can provide you with a couple of pieces of information. First, like asking how long the home has been on the market, it will give you an idea of how eager the seller will be to make a deal. Second, it will mentally prepare you for the "competition" to buy the home. If several other offers have been made, you'll either need to make a very competitive offer, or you'll have to prepare yourself for the possibility that someone else's offer may be selected over yours. In any case, it's always good to be prepared for the possibility that the home your considering may not be the home you buy – but don't worry, your dream home is still out there!
5: What are the advantages of this home?
Your agent has seen many, many homes and will have their own unique perspective about the home you are considering. Ask them what they like about the home. Maybe they'll highlight the open floor plan or the potential for remodeling in the future. They might appreciate the unique layout or a convenient location in the neighborhood. They'll also be able to tell you the advantages of the home that many other homes they've seen are lacking. Whatever it is, your agent will be able to highlight the benefits of the home that you might not have considered that will influence your decision to make an offer.
6: What are the disadvantages of this home?
On the flip side of the previous question, you can also ask your agent to provide their perspective on the downsides of the property. Maybe the property is located on a large plot of land that will be hard to maintain, maybe it's on a typically noisy street, or maybe it's an older home that will require a lot of maintenance. Your agent's experience working with other buyers and their knowledge of the area market will help them point out any disadvantages of purchasing the home you are interested in.
7: What will it take to buy this home?
The escrow process can happen very quickly, so before you make an offer it's helpful to know the processes that will follow so that you don't feel overwhelmed once it starts. Ask your agent to walk you through the next steps so you'll be prepared to follow your offer all the way from acceptance to close of escrow.
Now you're a little more prepared for what's to come on your home-buying journey. It's time to get yourself a great agent (cough, cough) and get on out there to find your dream home!
---
Thanks to our agents who collaborated on this post
Michelle Reifel (RE/MAX Advantage) – 909-557-0235 DRE#01747616
Al Talavera (RE/MAX Lakeside) – 909-228-6668 DRE#01476263
Vicki Wickersham (RE/MAX Lakeside) – 909-754-9881 DRE#01219295
Tanya Uribes (RE/MAX Advantage) – 909-477-0269 DRE#01903057
Carol Garden – RE/MAX Lakeside) – 909-496-5122 DRE#01027919